Free Bread Recipe (a Digger broadsheet)
[This leaflet was two-sided, 8-1/2" by 11". I found it in my collection after Ramon Sender sent me an email message requesting any information about recipes for digger bread. I had remembered seeing at least this leaflet (and perhaps others) so went searching. This leaflet was in one of my un-cataloged folders, with a date that indicated when I acquired it but not where. One of these days, I must ask "I" to see that collection I put together and left behind so precipitously when I moved out of the commune. Until then, I have to use the Xerox copies that are fading after twenty years. Enjoy this leaflet, which is just as current today as 25 years ago. If someone was interested in setting up a Free Bakery, here are the instructions. The only things you'd need to change would be the wholesalers who aren't around anymore (Oh's only closed in the past few years, I live two blocks from Mission Street.) Most inspiring quote from this leaflet: "Please take this recipe home and start making bread. The only stipulation is that you always give it away."]
---
This is the recipe for the bread that is made in coffee cans at the Free Bakery. The Bakery is at All Saints Episcopal Church, 1350 Waller, on Tuesdays and Fridays from 9 a.m. on. For information or to make donations, call Mary McClain, 362-6374, or Father Harris at the Church, 621-1862. Contributions can be mailed to Father Harris at 1350 Waller.
We get our flour in 100-lb sacks from several sources. The first we try is Whitman's Salvage, 1350 Egbert, Hunter's Point. They sell flour from damaged sacks, very cheaply. Then, if they don't have the whole-wheat flour we use, we go to two wholesale places: Fisher's Flouring Mills, 1566 Carroll, and Coast-Dakota, 1588 Carroll (two blocks from Whitman's). Another place that sells flour in 100-lb sacks, but retail, and open on Saturday's, is Oh's (California Direct Importing Co.), 2651 Mission at 23rd. Finally, many whole grains and special mixes are available at the Food Mill, 3033 MacArthur, Oakland (near Fruitvale). Some grains can be found at health food stores such as Far Fetched Foods (1915 Page, SF) and Sunset Health Foods (9th Avenue, SF). We also use quantities of dry milk, brown sugar, honey, molasses, margarine, jam, and tea. These things can be bought cheaply at Whitman's, Big Bonus (Howard St. near 7th or Potrero Hill)), or Co-op on Third St. near Paul Ave.
We bake in 2-lb coffee cans and sometimes 1-lb cans. This recipe makes one loaf in the 2-lb can and two in the 1-lb cans.
WET MIXTURE:
2-1/2 cups warm water (not over 85 degrees - it it's too hot it will kill the yeast, which can survive at freezing but not at high temperatures)
1 cake or package of yeast (this is still enough if recipe is doubled, tripled)
1 tablespoon flour 1 tablespoon sugar, honey, molasses (more may be added, or some of each - we like to use molasses because it's so rich in minerals and vitamins)
This can be mixed in your 1-lb coffee can - 2 cups water fills it to the middle line.
Let the wet mix stand while preparing the dry ingredients.
DRY MIXTURE:
1 level 1-lb coffee can whole-wheat flour, or 4 cups
2 teaspoons salt, or to taste
1/4 to 1/2 cup dry milk
MIXING THE TWO: In a large bowl mix the wet mixture into the dry mixture. Let the dough stand in the bowl until it rises by half, about two hours. The bowl should be put in a warm place, such as over the pilot light on top of your stove, and it should be covered. Again, too much heat will kill the yeast, but at about 80 degrees it is at peak activity.
THEN KNEAD (see below), drop into a greased coffee can - the 2-lb can takes 2-1/2 lbs dough, the 1-lb can about 1-1/4 lbs - after shaping the dough into a ball making sure no flour is on the surface. Let rise again until it's just getting to the top of the can, about 45 min.
BAKE at 390 degrees for the 1-lb can, 55 minutes; or 400 degrees for the 2-lb can for 60 minutes. Oven should be preheated.
KNEADING AND GLUTEN: This is what bread is all about. Yeast is not necessary for bread (macrobiotic and many other kinds of bread, especially Middle Eastern and Indian, do not contain yeast) but kneading, which causes gluten to develop, is. Gluten is a protein substance contained in the grain and released by milling and increased by kneading. It is elastic (same root as glue) and makes the fibers of dough able to stretch without breaking; these stretched fibers make little pockets to hold in bubbles of gas formed by the action of the yeast, and thus the bread rises. If yeast is not used, you still notice that kneading changes the character of the dough, makes it "breadlike" and not crumbly.
HOW TO KNEAD: Turn out the dough after it has risen two hours in the bowl onto a floured surface. Work it with the heels of your hands, pushing and stretching it. Keep just enough flour on the board and your hands to prevent sticking. Push at it until it begins to push back - in other words until it has developed gluten and gets elastic. Keep on until it doesn't stick any more, looks shiny, stretches without breaking when you pull it apart, holds the indentation made when you poke your finger in, instead of closing up on it. Caution: several of these tests can be passed by dough that has had too much flour added. Keep the dough soft, adding only enough flour to prevent sticking. But it may take another 3/4 cup of flour in the kneading, depending on the kind of flour you used, etc. The whole thing should take 10 to 15 minutes.
NOTE ON FLOUR: The freshest flour makes the best bread. Besides tasting best, it has more gluten. You can mill the grain yourself if you have an electric coffee grinder. It comes out slightly coarse, with all the wheat germ in it (commercial flour has the oily wheat germ removed because it can go rancid if it is stored for a long time) and needs very little kneading because of the high gluten content.
Whole wheat flour will make a loaf of bread without any additions. Coarsely-ground flours, such as stone ground, can be used for all the flour in a loaf but unless they are very fresh they don't develop quite as much gluten and so are often mixed with a fine-ground wheat flour. Rye flour hardly has any gluten at all, so must be mixed in order to rise. White flour, or bleached whole-wheat, is not allowed for Free Bread.
We generally put in one or two of several additions: wheat germ, soy flour (high in protein), various kinds of meals. You can experiment, starting out with perhaps 1/4 to 1/3 by weight of germ, other flours, meals. And then there are raisins, other kinds of fruit, honey, and so on.
Milk: If you use regular milk, scald it first (bring it to a boil) to kill bacteria, then cool to lukewarm (so it won't kill the yeast). Be sure to change it to a wet ingredient and adjust proportions accordingly.
Please take this recipe home and start making bread. The only stipulation is that you always give it away.
If you wish to start your own bakery, here is the recipe for twelve loaves. At the Bakery we mix up about ten or twelve of these batches during the day, keeping two ovens going with loads of twelve loaves coming out every half hour.
WET MIX:
6 quarts water (80 degrees)
1/5 pound yeast
1/2 cup flour
1/2 cup sugar

Molasses, if you have it, is added to wet mix.

Alternative for at least 5 batches: Mix 1 pound yeast with 10 quarts water, 1 cup flour, 1 cup sugar. Take 2 quarts of this yeast water for every batch, adding 4 quarts lukewarm water.
DRY MIX:
15 lbs flour (5 2-lb coffee cans or 3 Co-op 5-lb sacks)
1 lb sugar (3-1/2 cups)
1 lb dry milk (3 cups)
6 heaping T salt

Substitute other flours, meals here. Brown sugar works fine. Wheat germ too. 2 cans of substitutions for the flour is about right.
Let rise in the mixing container (we use plastic garbage pails) for two hours (same as for small recipe), then get in 5 or 6 friends to help knead. We use a scale to weigh the finished balls of dough (2-1/2 or 1-1/4 lbs) to be dropped in the cans. Rising and baking times the same as for small recipe.
[Document uploaded May 18, 1996]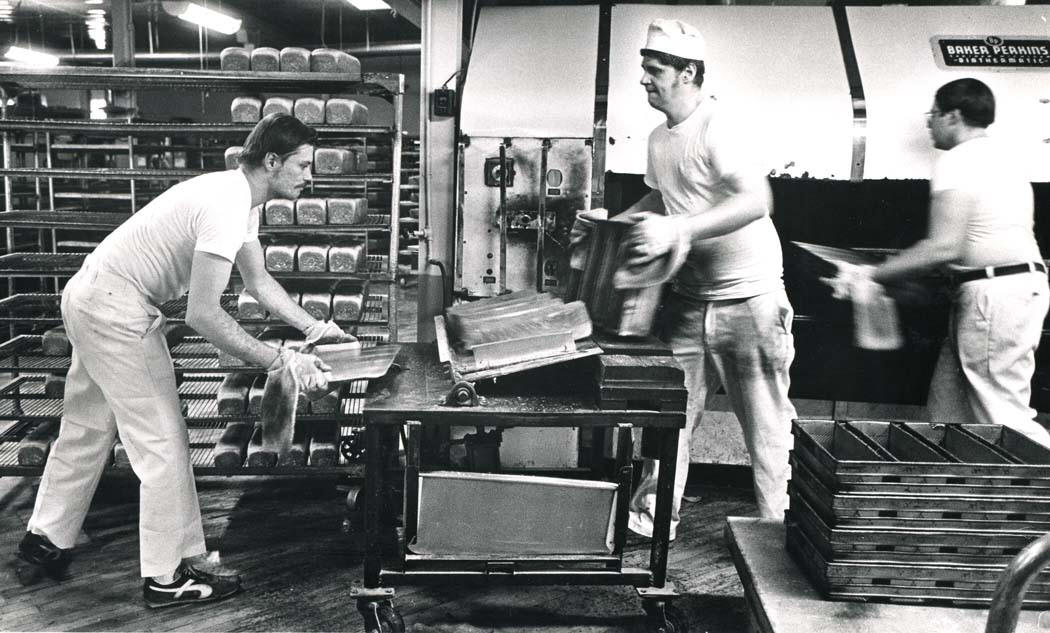 I have searched far and wide for photos of the bread oven that was the main attraction in the Free Bakeries at Olompali, Grove Street, Kaliflower and One Mind Temple. This is the best I have found. The Baker Perkins oven in back looks "similar" but not exact. If anyone has photos of the rotating oven that we used, please send them to me. —epn