Ringolevio
By Emmett Grogan
After retiring from the scene in late 1969, Emmett wrote his account of the adventures (and misadventures) of the previous decade and Ringolevio was published in 1972. Many of his compatriots felt betrayed and (even to this day) refused to read the book. Many others (myself included) who had not been present at most or all of the actual events cherished Ringolevio which (to us) captured the purity of vision the Diggers represented. Granted there were flaws of ego and machismo and braggadocio. But, man, what a story Grogan could weave.
My intent is to have a full-text, searchable version here. For now, this page has links to the scanned (uncorrected) files that pick up the second half of Ringolevio, starting on page 209 with a dedication to Matthew "Peanut" Johnson, the sixteen year-old kid who was shot and killed by a policeman in Hunter's Point, San Francisco, September, 1966, thus precipitating a paradigm shift in the evolving Digger consciousness.
Update (2016): we now have a full-text, searchable PDF version of Ringolevio, Section Three (the Haight history).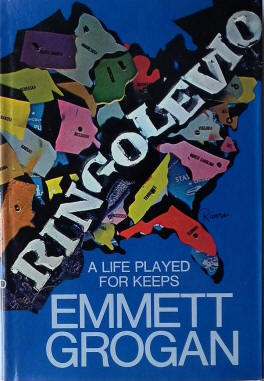 An anonymous angel sent me the following episode of "To Tell The Truth" from 1972 with Kitty Carlisle and the other panelists attempting to discern "the real Emmett Grogan." The occasion of Emmett's appearance on the game show was the recent publication of Ringolevio, which is prominently displayed by the host (Garry Moore.) [Added Mar 3 2012]
Ringolevio (Full Text of the Haight-Ashbury Portion)
[Note to our readers: If anyone would care to send corrected versions of the above files, we would be eternally grateful.]
Full text, searchable, by page in the original edition.