Digger Photo Gallery 1
A new start to collecting. Adieu the old, hello the new.
The photos in this Gallery #1 are contributions from Peter Coyote, who learned that we were desperate to fill a void that suddenly befell the collection. Thank you Peter for your quick response. The master of improv as always.
All captions on this page (Gallery 1) are by Peter Coyote. [Updated 2019-04-16]
| | |
| --- | --- |
| | Ariel, Sam, Peter. This was taken at Olema. Ariel was not yet two. I was about 29. |
| | |
| --- | --- |
| Ariel on a friendís Harley. She was living in Redway then with her mom who was practicing Ďalternativeí agriculture. The bike belonged to Jed Sherman, one of the Gypsy Truckers who spent the winter at Olema, moved North and became a serious grower. Died about ten years ago of a brain tumor. | |
| | |
| --- | --- |
| | Jedís lovely wife Sean. A hypnotic beauty and lovely woman. |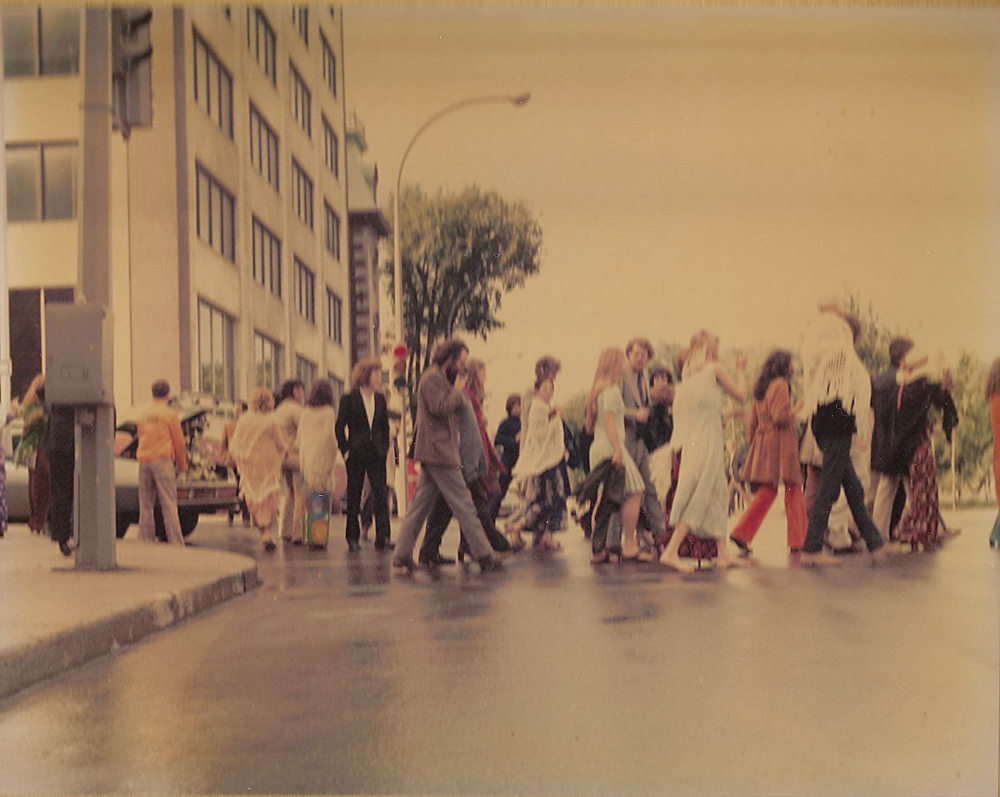 The Turkey Ridge commune crossing a Toronto street for Emmett Groganís wedding on St. Jean Lafitte day. The entire city celebrates that holiday but I thought it was for Emmettís wedding. Digger narcissism.
| | |
| --- | --- |
| | Ocean Berg, (daughter of Peter and Judy), Angeline Minault (daughter of Kent and Nina). Peers of Ariel's, all mothers now, visiting Ariel. This taken in my kitchen. The photo behind them is a composite of Turkey Ridge Farm, our last commune, in the Delaware Water Gap of Pennsylvania. Many tales of it in Sleeping Where I Fall. |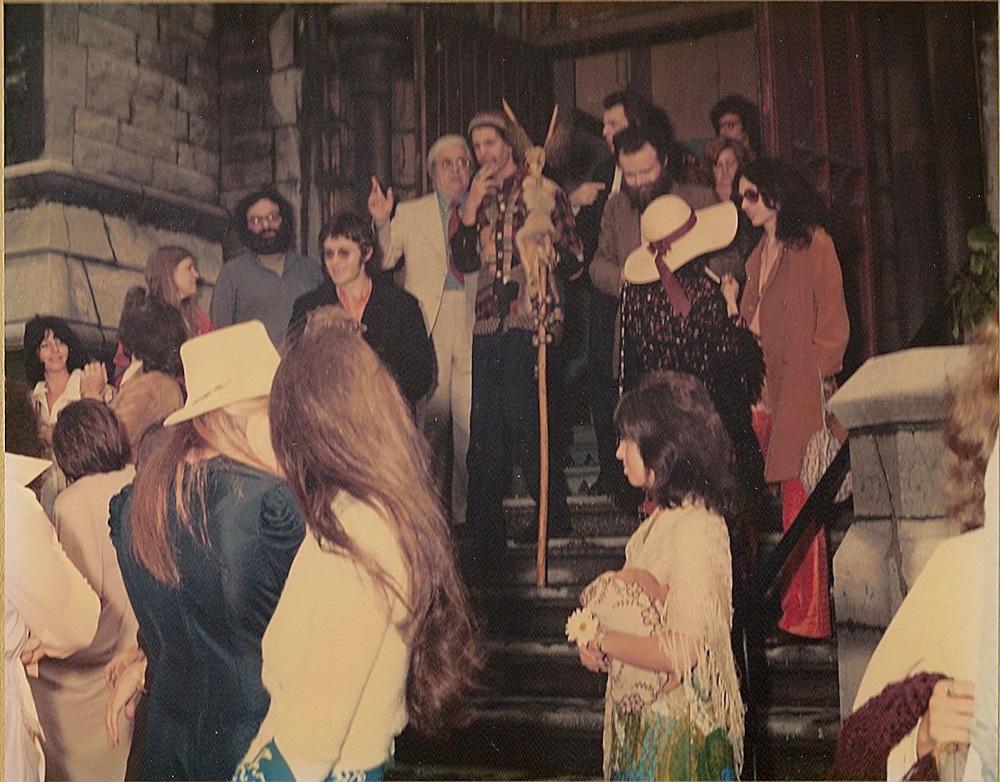 Louise and Emmett's Wedding Party. Top Left, Albert Grossman, the Band and Dylanís manager (light suit) talking to me (holding the staff). The Coyote skin was part of a medicine bundle given to me by the Alcatraz Indians after a Peace and Friendship dance at Olema. You can see Emmett, just above the staff and Garth Hudson with the beard.
| | |
| --- | --- |
| Sam and Ariel at The Last Waltz, catching a quiet moment. | |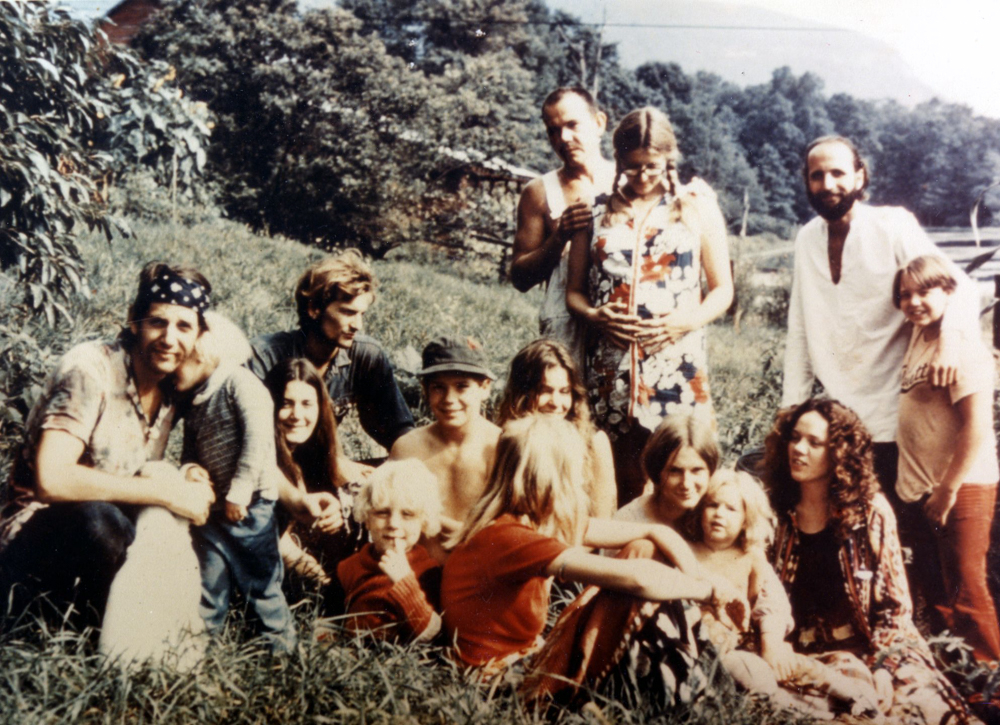 Turkey Ridge Commune. From Left, Me, Ariel (hiding her face). Forgot the dark haired womanís name, think she was Joanna Rinaldiís sister, on the run from some trouble. Above her, Kent Minault, then Owl Pickens, and below him, tow-headed Jeremiah Wills. Off his left shoulder is Lynnie Harriton, she is Ďoverí Samís head (turned away). Standing is Samurai Bob and Sigh, Chris Christianson and his son. Below him, Nichole looking left, and Nina and Angeline.
| | |
| --- | --- |
| | My lovely mother Ruth with her adored grandchild Ariel, and her son, angry about something and too rude to hide it. |
| | |
| --- | --- |
| John and Inga Albion, stalwarts at Black Bear Ranch. Forgot the name of their child. | |
| | |
| --- | --- |
| | Lenore Kandel and Billy Fritsch. RIP |
| | |
| --- | --- |
| Lenore Kandel and Billy Fritsch. RIP | |
| | |
| --- | --- |
| | Nicole Wills and son Jeremiah. Donít know what that credit is at the bottom. |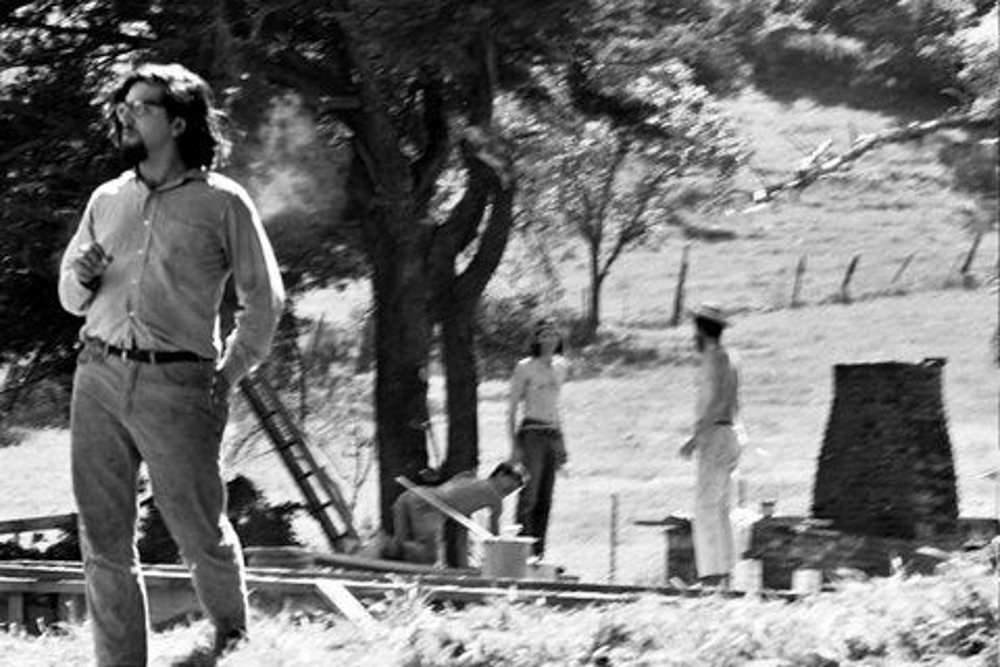 Michael Tierra at the installation of the Free Bakery oven at Olompali Commune. [Photo by Chuck Gould]
| | |
| --- | --- |
| Kent Minault, taken visiting his ex, Jeannie in Belgium I think. | |
| | |
| --- | --- |
| | TroubleóNicole and Me at Turkey Ridge. The little head below is Nicky, Joanna Bronsonís son. |
| | |
| --- | --- |
| Sam, Ariel, and I in a tiny, tiny house over Dolores Park. There was about two feet to walk around the bed on one side. The living room was 6 x 8 feet and the kitchen 6 x 3. It was a house constructed after the Frisco quake. Good for us. | |
| | |
| --- | --- |
| | I think this is the seven-room house in Jemez, New Mexico. From left: Mary Ann Pickens, Rhodes Hileman, Natural Suzanne (Siena Riffia) and her two kids Gamilah and Taj (by Taj Mahal.) I canít place the other woman. |
| | |
| --- | --- |
| Jed Shermanís truck and lovely home built trailer. | |
| | |
| --- | --- |
| | The interior of the trailer. |
| | |
| --- | --- |
| Young Jeff (on the right) murdered by the Hells Angels (or at least by someone working for them), stuffed in a barrel and dropped under the Richmond bridge until a snitch ratted out the location 20 years later. This was at a party at Olema, maybe the wedding of Hellís Angel Moose and his bride Orion. | |
| | |
| --- | --- |
| | Owl Pickens. The wonderful OwlóPaul PickensóKung Fu devotee, trusted friend, beautiful soul. Died of AIDS in his 20s. |