The Digger Archives Guestbook
Stand Up, Diggers All!
For the current Free Frame of Reference discussion forum, click here.
This web site started in 1994 as a project to put some of the Digger archives online. When I made the first major revision and designed the site in Microsoft Frontpage in 1995, it was easy to add a Guestbook page. I also set up a "Discussion Forum" section thinking that would be a place for people to carry on back-and-forth conversations. Very quickly, though, the Guestbook took over at the place everyone came to leave comments on each other's postings. For the next ten years (1995-2004) the Guestbook remained the primary place for discussions. Sometime around 2003, we started seeing a precipitous increase in spam messages being left on the Guestbook -- to the point that it became obvious we could no longer have an open form for leaving messages. So I set up an ASP-scripted Forum (which required registration) and we shut down the Guestbook.
Today we have our third full-fledged Discussion Forum, but we also wanted to maintain an archive of those first ten years of messages. So here are links to all those first years of the Digger Guestbook: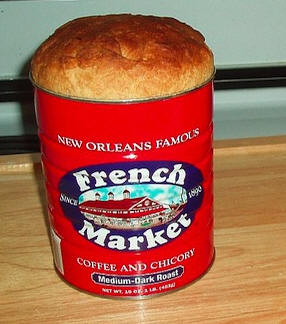 Digger Bread, distinctive for the coffee cans used for baking the individual loaves.